Nova East Star Party

August 18-20, 2023

Smileys Provincial Park 
Hants County, NS
Atlantic Canada's Longest-Running Star Party
Organized by the Royal Astronomical Society of Canada, Halifax Centre.
Please note that some of the menus displayed at the top of the page have nested sub-menus (+).
On smaller screens (e.g. phones or tablets) the menus are hidden underneath the 

 icon at the top left of the page.
---
At the 2022 Nova East (the first one held after the COVID-19 lockdown), we had a great weekend looking up! What will 2023 look like? Join us!
Watch a time-lapse of the telescope field from Nova East 2022 Two nights of observing (and some Nova Scotia Constellations, e.g. clouds).
---
Nova East was originally established as the camping and observing weekend for the Halifax Centre and has grown to include participants from many other astronomy clubs in the Atlantic region, and a number of attendees from the northeastern United States. All participants come to enjoy dark skies. A limiting magnitude of +6 is the norm. Nova East occurs on a weekend near the new Moon phase towards the end of summer.
Nova East registrants have access to all events, including all talks, workshops and presentations, three nights of observing (weather permitting!), the astronomers' lounge and breakfasts, and the door prizes draw. When attending the talks, bring a folding chair for comfort. Nova East Registrants have onsite parking (if camping) or adjacent site parking (if not camping).
The decision to go forward with Nova East or to cancel will be made in the week before Nova East. Should Nova East be cancelled, refunds on shirts will not be available but you will receive it. However, registration and camping fees will be refunded:

If payment sent via e-transfer, you will be refunded via e-transfer by our Treasurer.
If payment was mailed in with a cheque or money order, the payment will be withheld until Nova East. The Registrar will contact you to determine the refund method.
DEADLINES: TO BE DETERMINED for 2023
Mail-In Registration - August 13, 2022
Email Registration - midnight, August 25, 2022
T-Shirt Order - July 8, 2022

---
To REGISTER for Nova East please wait for us to update these pages for 2023,    click here: 2023 Registration Information
---
Special Features of the 2022 Nova East
How-To Workshops:
Solar Observing with Binoculars (David Hoskin)
David will show how to observe our Sun safely and will provide a workshop to demonstrate how to make solar filters for binoculars or telescopes. He will then lead a solar observing session (the Sun and clouds be willing). David has provided two options for purchase of the solar film to make your own white light filter(s) for your binoculars or for a telescope up to 120 mm aperture. The fee includes the solar film and all other materials needed for the project. Indicate on the Registration Form which option you prefer:


Option 1: $5 for 8x16cm solar film, sufficient to make a pair of filters for 7x50 binoculars

Option 2: $10 for 16x16cm solar film, sufficient to make a pair of filters for 15x70 binoculars or a filter for a telescope up to 120mm aperture.

How to Clean the Mirrors of your Newtonian Reflector (Dave Chapman)
This workshop will demystify and demonstrate how to clean your mirrors. To provide a general idea as to attendance, please indicate on the registration form if you plan to attend (no commitment to be there). Let us know in the notes field of the Registration Form if your scope could be used for the demonstration!
Inaugural Sherman Williams Walk:
The walk is named to commemorate Sherman Williams, an astronomer and naturalist who for numerous years led a nature walk at Nova East. His contributions to our Centre and to Nova East were numerous. Join Jason Dain - astronomer and birder - for a trail walk to look for birds that frequent the area. Sign-up for the walk at Nova East.
Door Prizes:
One door prize ticket per registration will be issued during the registration process. There will be some "right some good" prizes to be won again this year! Note: Must be present to win.
Astro-Breakfasts
Our famous astro-breakfasts are returning for Saturday and Sunday mornings - pastries, fresh fruit, juice, coffee, tea. What better way to start the morning after a night of observing? Be sure to bring your own plates and utensils. Cups will be provided by Robin's Donuts for the hot beverages - but you are welcomed to bring your own. Please note that no hot food items will be offered this year. Breakfast will not be provided to registrants on Monday morning.
Astronomer's Lounge
A quiet place for late night socializing. A kettle will be available as well as basic elements for refreshment. This will be held in the Events Building from 10 PM - 1 PM only on Friday and Saturday nights. To conserve our night vision, a red light will be used.
Flea Market:
In lieu of the auction held triennially, it was decided that a flea market would be fun for everyone! Bring your astronomy gear, imaging items and astronomy-related books you would like to sell. There will also be a "donations table" where you can place items that members can pick up their newfound treasures and make a donation to RASC Halifax Centre. Let us know in the comments portion of the registration form if you are selling or donating at the flea market. Email our Registrar if you decide after your registration has already been forwarded. Please keep items at your site until 30 minutes before the start of the market.
Photography at Nova East
Throughout the weekend during Nova East, pictures and video will be taken as means of recording events. By registering for Nova East, you have agreed that RASC Halifax Centre may use your voice, likeness and/or photograph for inclusion in the Nova East Star Party website and for use in communications to advertise the Star Party.
Quiet Hours:
Registrants will be asked to respect a quiet time on Friday, Saturday and Sunday nights from 1:00 AM to 8:00 AM.
Nova East Etiquette
To make Nova East an enjoyable and safe experience for everyone, we would appreciate your co-operation in following the Nova East Star Party 2022 Nova East Etiquette.

Astrophotography Contest:
In the past, Nova East has hosted the annual award ceremony for the RASC Halifax Centre Astrophotography contest. This year, the winners of the 3 contest categories and the People's Choice Award will be announced at the Centre's Annual General Meeting (AGM) as well as the People's Choice Award. This weekend will be a great opportunity to work on your submissions!
Public Observing:
Because of health and safety concerns, members will not be offering views through their telescopes to the public this year.  We will be notifying registrants and Park staff should this change.
The public are welcomed to join Chris Young for his Sky Tour & Lore, Tony Schellinck for his binocular RASC Novice Observing Program (please Bring Your Own Binoculars) and David Hoskin for Walk the Solar System.
Accommodations:
For information about facilities at Smiley's Provincial Park and nearby hotels and amenities, visit Accommodations.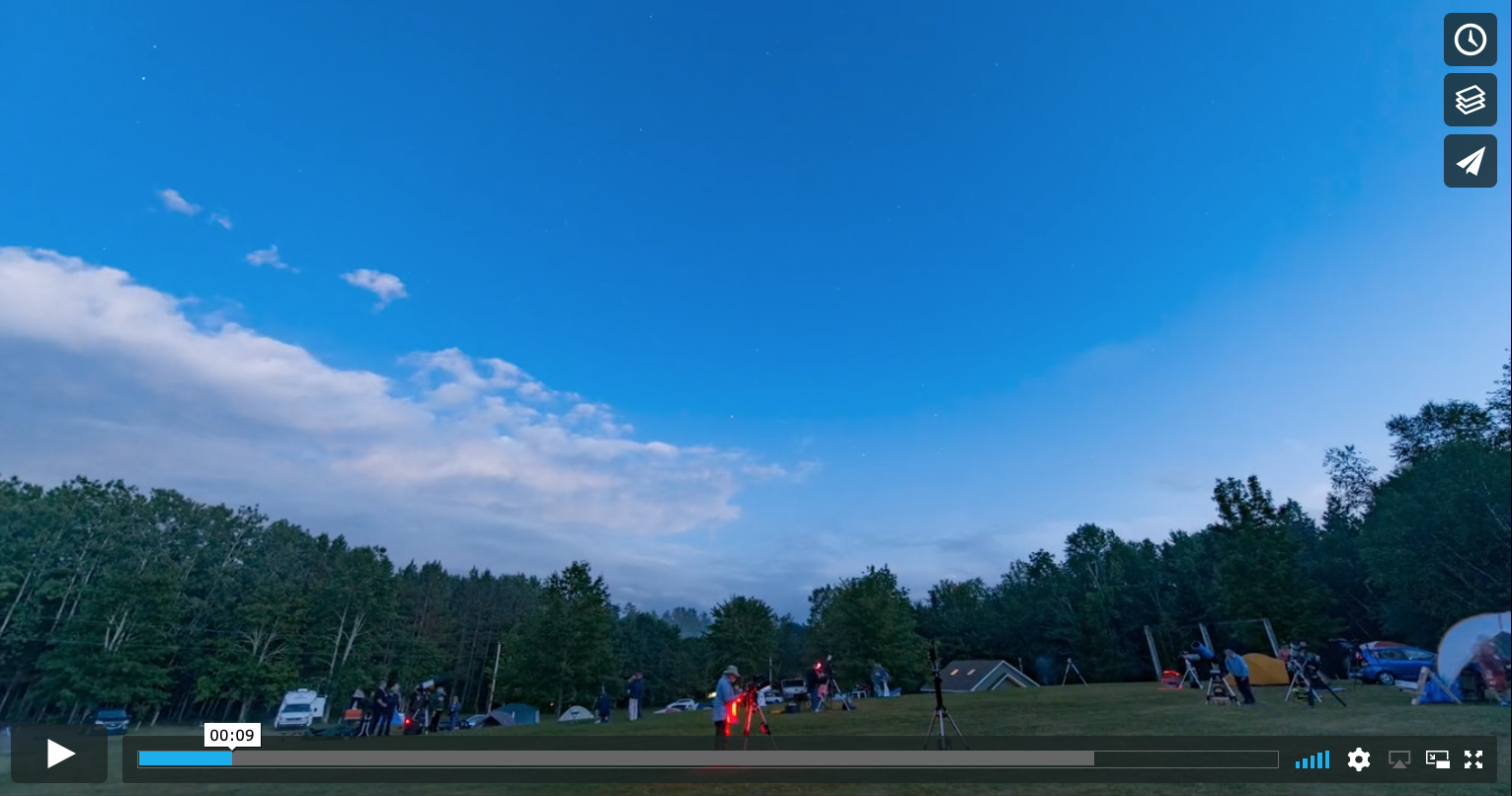 Sunrise. Sunset. Moon.
To assist you in planning your astronomical observations, we have provided the times of sunrise and sunset as a guide.
Friday Evening, Aug. 26, 2022

Sunset: 8:04 p.m.
End of Civil Twilight: 8:32 p.m.
End of Nautical Twilight: 9:09 PM
End of Astronomical Twilight: 9:49 p.m.

Moonset: 8:15 p.m.
(Waning Crescent, ~0.3%)

Saturday Morning, Aug. 27, 2022

Start of Astronomical Twilight: 4:44 a.m.
Start of Nautical Twilight: 5:24 a.m.
Start of Civil Twilight: 6:01 a.m.
Sunrise: 6:32 a.m.

New Moon @ 5:18 AM, ~0.6%
Moonrise: 6:28 a.m.

Saturday Evening, Aug. 27, 2022

Sunset: 8:02 p.m.
End of Civil Twilight: 8:30 p.m.
End of Nautical Twilight: 9:07 p.m.
End of Astronomical Twilight: 9:47 p.m.

Moonset: 8:37 p.m. 

Sunday Morning, Aug. 28, 2022

Start of Astronomical Twilight: 4:46 a.m.
Start of Nautical Twilight: 5:25 a.m.
Start of Civil Twilight: 6:02 a.m.

Sunrise: 6:33 a.m.
Moonrise: 7:36 a.m.

Sunday Evening, Aug. 28, 2022

Sunset: 8:08 p.m.
End of Civil Twilight: 8:28 p.m.
End of Nautical Twilight: 9:05 p.m.
End of Astronomical Twilight: 9:45 p.m.

Moonset: 8:00 PM
(Waxing Crescent, ~3.0%)

Monday Morning, Aug. 29, 2022

Start of Astronomical Twilight: 4:47 a.m.
Start of Nautical Twilight: 5:27 a.m.
Start of Civil Twilight: 6:03 AM

Sunrise: 6:34 a.m.
Moonrise: 8:44 a.m.