Campsite Reservation Information
This is a camping week-end, so we encourage everyone to bring their tent or trailer. To guarantee one of the camp sites adjacent to the observing site, it would be best to register early. You will be assigned a campsite that will appear in your Confirmation email.
All Nova East campers pay for and register their campsite with us - do not register at the Park entrance.
Upon arrival, please check in at the Nova East Events Building at the Nova East site in the Park. One vehicle per site. Non-camping vehicles are not permitted in the Nova East campers area. Nearby vehicle parking is available.
Attendees who prefer campfires and white lights after dark are encouraged to reserve a campsite outside the observing field through the Park reservation system by calling toll-free 1-888-544-3434. For these campers, the Nova East registration form should include only the weekend registration fee of $35 plus T-shirts with no entry for camping.
Smileys Park and Local Services
Park Facilities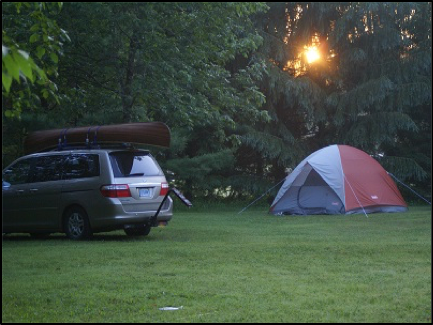 In the Park, over 100 campsites are available to the general public. Hot showers and flush toilets are at the main comfort station. Water, fire grills, picnic tables, a trailer dump station, and facilities for the disabled are also available. Firewood can also be purchased.
Local Services
Gas stations, camping supplies, confectionary goods, and hardware supplies are 5 minutes from Smileys Park in the village of Brooklyn. Extensive services such as malls, restaurants, banking, and 24-hour services are in the town of Windsor, 15 minutes from the Park. The closest motel (but not the only one) is the Downeast Motel, 902-798-8374 or toll-free 1-800-395-8117, also a 15-minute drive from the Park (inquire about their consecutive rates).


Nova East Etiquette
To make Nova East an enjoyable and safe experience for everyone, we would appreciate your co-operation in following these Star Party rules of etiquette.
REVISED 

- WHITE LIGHTS, RED LIGHTS, & GREEN LASERS

Green Lasers can be used only by designated Nova East speakers who have completed the RASC training. Registrants are not to use GLPs at any time. Maglites are not to be used after 11:00 PM on Friday and Saturday nights, and not at all on Sunday night. Please respect these rules.

White lights ruin our night vision and our ability to see the night sky. Please don't operate a naphtha or propane lantern on the site after dark. Please cover flashlights and/or car lights with a red filter. Red film will be available at the registration desk if needed.

REVISED

 

- CARS AT NIGHT & NON-CAMPERS

Parking in the observing field area is limited to campers only. Cars cannot be moved in/out of the observing field from 9 PM to 7 AM. If you must move your vehicle, please move it to the nearby non-camping parking area ahead of time for an easy departure. Parking for non-camping Nova East attendees is available inside the Park near the observing site. Check at the Nova East Events Building for directions.

REVISED

 

- CHILDREN, PETS and VALUABLES

Supervision of children on site is the responsibility of parents or adults accompanying the children.

Park rules require pets to be kept on a leash at all times. Nova East Registrants are required to have pets under control at all times.

Please protect your valuables as Nova East is not responsible for lost or stolen articles.

ALCOHOLIC BEVERAGES

No alcoholic beverages are allowed to be consumed on site.

HEADPHONES? YES. BOOMBOXES? NO.

One person's music is another person's noise. If you want music, please use headphones.

IF YOU SMOKE, PLEASE BE CONSIDERATE

Do not smoke in or near the Events Building, or upwind of observers.

BE SOMEBODY. WEAR YOUR NAME TAG

It takes time to link names and faces. Please wear your name tag throughout Nova East so others can get to know you. White strings identify Registrants whereas orange strings indicate Speakers, NE Planning Committee, Telescope Medics and Volunteers.

PLEASE FOLLOW ALL PARK RULES

A copy of park rules is available at the park entrance.